Posts Tagged 'Lower Russian'
The early run of sockeyes has wound down, and the late run hasn't started yet.  It's my favorite time to be on the Russian River. Water levels have dropped over 9″ in the last three weeks, and Lance & I were hoping that there would be some hungry trout in the river now that salmon scraps have gotten slim. We parked in Pink Salmon and, after gearing up, hiked a short time to get into the base of the canyon.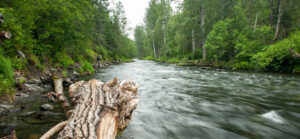 Lance decided to continue testing his Hevi-Bead system; I decided to start with a Helmet-head sculpin tube fly. I also threaded a very small pink bead on the tippet hoping the extra attraction might trigger an instinct. (You know, egg-headed anything.)  We fished through the first two runs and down into the bottom of the canyon where it flattens out. No luck for either of us. Since neither of us have had much luck in the broad flat area right out of the canyon, we decided to hike down to the Powerline Hole and drop in just below a couple of die-hard salmon anglers.