So it's mid-April and we're having an extremely early and warm spring this year. Coupled with a very mild winter, this means that spring fishing is at least 3 weeks early and we are already seeing signs that if we don't get out soon, the rivers are going to silt up with runoff and high water. Our challenge is that the river boat operator that we usually hire to run our rafts up the river we like to fish in early spring is out of state until May and we don't have that much time. Lance is saving up vacation time for June when his brother is coming to Alaska, so fishing needs to happen on a weekend. Due to my schedule, I have only one open weekend, the 23rd of April, which is before Rhett at Phantom Charters will be back. What now?
We have a friend in the AFF that likes to spring fish as well and usually on the same river. Checking with him we found out that last year they hired a helicopter to fly four of them and two rafts upriver for a two day float. The helicopter runs about $300 hour and needs two hours to make two 600lb trips. Plan A; but not for long. Among all our normal fishing partners we can't put four people together that can take two days off and/or drop $200 plus for the weekend. Anything less than four makes the trip a bit expensive for spring fishing, which can be hit or miss. We all have trips later this summer we want our fishing funds to go to.
Four of us can do Saturday and since Damond guides on the lower and middle Kenai, we decide to float the Middle Kenai from Skilak Lake to Bings Landing. There's always the chance for big rainbows and since we're taking rafts, two can fish while two handle the boat. Lance, Dennis, and I floated the middle river a few years ago (2009) with our pontoon boats, but we had to drag our boats over the lake ice to get to the outlet – not fun. And since it's really hard to fish while you're floating/rowing the pontoon boats, we ended up floating more than fishing. This year the lake has been open all year and hardy anglers have been on the river all winter. We know we'll be facing crowds (relatively speaking for this time of year), but Damond has talked with someone he knows and arranged a place to stay in Sterling on Friday night, which will save us a three hour "crack of dawn" drive in the morning. They're also willing to shuttle our truck and trailer to Bings – a double plus! Chad will trailer our two rafts and Lance I will drive down in my car. We're on Plan B… until Damond calls on Wednesday and tells us that something unexpected has come up at the job he's working on and he has to work through the weekend to get it finished on time.
We're now down to three people, so we adjust the plan. We'll take a single raft – Chad has one rigged with a back seat so it fishes two people easily, and drive only one vehicle, his truck with the trailer. We're going to miss Damond, but we're still leaving Friday night since even without him, we still have the place to stay and the shuttle. We're on Plan C.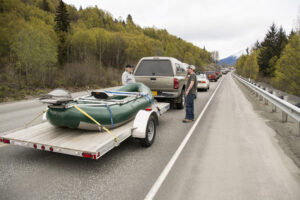 Friday night Chad picks up Lance and me from my house just after 6:30PM, and we hit the highway after a quick stop at Subway for dinner sandwiches. At 7:30PM we hit a line of traffic, stopped & waiting, just past Indian. Short story: there's been an accident (a really bad one) at Mile 99 and the road is closed in both directions.  A quick discussion and we decide not to wait as it doesn't look good, and we'd just as soon drive early in the morning than to wait on the highway for an undetermined amount of time. As a backup, Chad decides to call his friend that has been fishing on a river north of Anchorage with a riverboat the last couple of weeks and see if he'd be willing to haul us and the raft upstream – Plan D.
Turns out that the highway didn't open back up for travel until after 11PM Friday night and our decision to come back home worked out for the best as Chad's friend Billy offered to run us around the river up north in his boat. The fishing had been pretty good for him the last couple of weeks, but the water had started to come up and was turning color with dirt as the weather had been warm all week. High water and brown colors usually means really tough conditions.
After a short night and an early Saturday morning drive we're being introduced to Billy, who's filling us in on fishing and water conditions. The river is up even from Friday and visibility is lower. The river is blowing out fast. He decided to get us to a few spots where clear water comes in and keeps turbidity lower. We rig rods, store our gear in the boat and hit the water. We pass three boats already on the water as we head up river. The water looks olive brown to me. I've been on this river when the water is up and colored and have never done well. I'm consoled that at least I'm out fishing and the weather is looking good for the day. A couple of fish will be icing on the cake.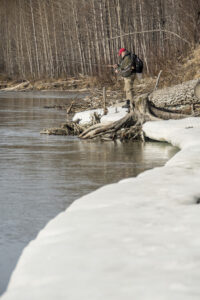 Lance and I get dropped on a high bank with shelf ice. Billy tells us that it has produced in the past and that we should short cast and let the fly swing back to the bank. Good advice as the bank right behind us was 7 to 8 feet tall, not counting the trees and willow bushes that lined its front edge. A long back cast was out of the question. Chad and Billy headed a short distance upstream and anchored mid-river to fish a hole that you can't reach from the bank.
I walked to the head of the bank while Lance started at the midpoint as we had decided to move down the bank as we covered water. I tied on a large UV Diamond Fry and Lance tied on a olive leech pattern. Within 10 minutes a small rainbow smacks the fry and I know I won't get skunked today. A quick kiss and release for the first fish of the season; and back to it. A bit later and a few yards down the bank a larger fish hit the fry, but LDR'd after a short tussle. (He was bigger because of the bend in the rod; I know what you were thinking!) After that Lance and I remained fishless until the guys drifted down to pick us up.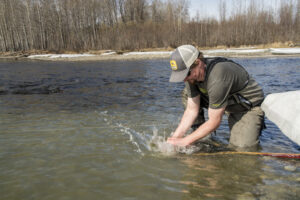 Chad decided to fish the very end of the bank into some soft water and was the first to pick up a nice sized fish. I came down for photos, but Dolly Varden are slippery devils and Chad's fish was back in the water almost as soon as it was lifted from the net. The next few hours were spent on banks doing a fair amount of casting, but not a lot of catching.
As afternoon arrived we decide to start moving down river. Billy had two or three possible spots he wanted us to cover before having to get off the river.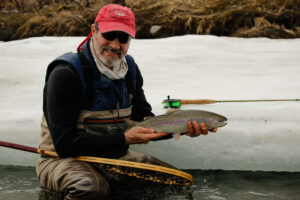 The river had darkened as the ambient temperature climbed all day. It was nice fishing weather, but we were paying for it in water clarity. At a big long straight run, we fanned out and waded up to the top of our legs. The water on our side was slightly clearer and there was a visible line where the clarity changed. Chad was using a fly he calls the Trout Camel, a very flashy streamer, and I was using a Tubular Smolt. We both got into nice fish fairly quickly. Chad's was a Dolly, mine was a Rainbow. We tagged a couple more at that spot and saw a couple boiling on top water. Better than what we'd been doing, and encouraging.
Lance, unfortunately, was still without a fish but getting in a lot of casting practice with his two handed rod.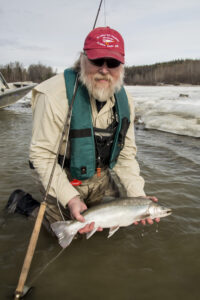 Our next, and last, stop was another long run. Only this one was a bit different in that the water came in from a chute at the head and then broadened as it slowed. Our side on the river had a sloping bank that ended up being crotch to waist deep to reach the center of the run. But we found fish – a herd of Dolly Varden to be exact. Lance tagged the first two fishing right off the end of the boat, mid-run. Seems he switched flies after the last spot without saying anything. He had tied on a Laser Leech pattern that we'd worked up a couple of years ago for lakes. There's no tying PDF on our site yet, so here's the description: #8 3XL hook; tail is brown marabou; body is Sculpin Brown Senyo's Laser Dub, loop dubbed on the shank and brushed out. It's olive brown with all kinds of sparkly fibers. The lake rainbows seemed to like it. These river Dollies loved it. His best fish was about 22 inches, and the fattest of the trip; a real porker. Lance doesn't smile big much, but this one brought him out.
A bit after Lance's success I switched from the (4 inch) Tubular Smolt to a small (2 inch) conehead streamer.  Two smaller (under 20 inches) fish took that fly within five casts, from water that two of us had already fished through. Again, there's no tying sheet on our site yet, so here's the description: #8 3XL hook; 3/16 brass conehead; tail is black marabou, with a strand of Peacock Black Krinkle Mirror Flash on each side; the body is dubbed Peacock Ice Dub. Photo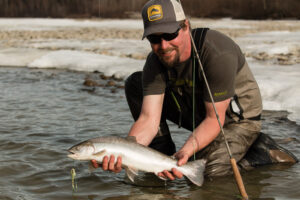 Chad did well himself at the bottom of the run with his Trout Camel, fishing much farther down than Billy usually did. Chad took home the big boy award with a fish that was 23-24 inches. The Trout Camel is mostly synthetic flash materials, some applied with loop dubbing techniques.
So, given a great day of fishing, with lots fish between 18 and 24 inches, what I'm taking away from this trip is that the three most productive patterns for the day were predominately tied with modern, synthetic, flashy, UV responsive materials; something that I don't feel should be lost on those of us that have tied flies for decades.  Add to that, that Lance's switch to a smaller flashy fly, even in water with limited visibility, turned the day around for us.
Yes, sometimes it's all about being at the right place and the right time; but sometimes, to get it right, you need to step out of your box.