Kenai River Opener: June 11th – 13th
As we have for the last few years; Lance, Dennis, & I took three days at the beginning of the season opener to float fish the Kenai River. The campground is in Cooper Landing, right on the river. Actually, it's our campsites that are right next to the river, giving us the prime location for launching our pontoon boats.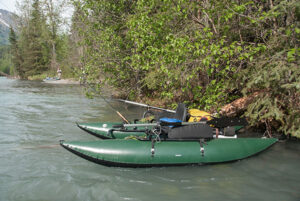 Speaking of boats… I have a new one! It's the 9' Sportsman Warehouse special from Outcast.
I reversed the tubes as I didn't receive any discount that warranted free advertising on the river. I'm planning on getting vinyl banners printed and attached to the tubes that will promote 2 Guys Fly Fishing (and my photography business if my lovely partner gets her way).  Anyway, the boat is solid and handled well, and considering the price point, a great deal.
The Kenai River was high, up to its banks, and we saw higher water each day, thanks to the stick marker put in by Dennis. With the high water came low water clarity. Both of these contributed to poor fishing.