Archive for the 'Fly Fishing' Category
I wrangled an unprecedented opportunity to fish the Talkeetna River for the third time this spring. All the factors that control my fishing life came together in a prefect union. Although mostly it was the fact that the weather has been cooler this month, the water quality/clarity on the Talkeetna has remained good, and my brother could go. Lance was committed to a work trip to Ninilchik; bummer.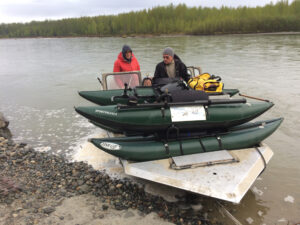 Worst part about this trip was the 7AM launch time. It was a really early morning for both of us but we did well, and by 7:10 we were loaded on Jerry's boat ready for the trip up to Clear Creek. We had decided to start a little lower than we usually do as we had been much more successful below Clear Creek than above it the last two trips. We wanted to save the couple of hours we usually spend upriver concentrating on the confluence area.  We ended up running up Clear Creek a little ways to launch.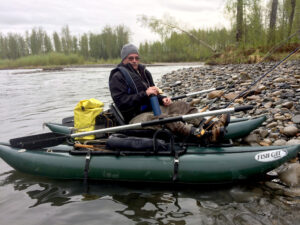 That gave us a chance to fish it in a couple of spots before dropping down to the confluence. I caught a mid-teens rainbow in Clear Creek and we saw a few rises which I later figured out were probably small grayling.
My fishing karma must have kicked in this trip as a few times during the day we pulled up to fish an area and I was into a fish within a couple of casts. Twice it was on the first drift through a run. This is the sort of thing than can frustrate your fishing companions, especially when they aren't getting any "fish love" themselves. Read the rest of this entry »

Early for Alaskan waters, but I had got word from a friend that Jerry Sousa of Talkeetna Fishing Guides had put his boat in the river Sunday, the 23rd, and had been able to run the jet upriver to Clear Creek. Good news for those of us with Spring Fishing Fever. A phone call Monday morning confirmed a drop off trip on Wednesday for my brother Dennis and myself; Lance was trapped at a conference in Vegas until Thursday and was going to missed this opportunity (we don't talk about it).
The Talkeetna River is one of the two rivers than can provide some decent spring fishing in south-central; the other being the Kenai. The Kenai River is road accessible and had been seeing anglers for most of the month in its upper reaches below the lake. We wanted to test the Talkeetna as it is much harder to access, receives much less pressure, and therefore more apt to fish better; if the water is decent. That's the risk with the Talkeetna; it doesn't flows from a lake like the Kenai and is very susceptible to runoff, water level fluctuations, and turbidity depending on the weather and runoff. It's a roll of the dice.  Read the rest of this entry »

So it's mid-April and we're having an extremely early and warm spring this year. Coupled with a very mild winter, this means that spring fishing is at least 3 weeks early and we are already seeing signs that if we don't get out soon, the rivers are going to silt up with runoff and high water. Our challenge is that the river boat operator that we usually hire to run our rafts up the river we like to fish in early spring is out of state until May and we don't have that much time. Lance is saving up vacation time for June when his brother is coming to Alaska, so fishing needs to happen on a weekend. Due to my schedule, I have only one open weekend, the 23rd of April, which is before Rhett at Phantom Charters will be back. What now?

This blog was supposed to be so much different than it is, but (BLEEP) happens!
We were going to fish the Upper Kenai again this weekend. Only this time we were planning on staying in the lake above the bridge and the slow section of the river just below. Reports were that, although there were fish being caught down in the upper river, this section was producing well. Besides, after last Friday's adventure of getting off the river at dark-thirty, we wanted to be within an easy row of the truck and trailer. Lance and I had decided to take our flippers and slow troll our flies back and forth across the outlet banks. We felt that even below the bridge, the current was slow enough that flippers would allow us to cover the water much like we do in lakes. And, if we needed to, we could just get our feet up on the pegs and row out of any faster current. My brother Dennis decided to take his electric motor and Hummingbird fish/depth finder. He had tried the fish finder a few years earlier while floating the main river and it didn't work well. He was pretty sure that at least he would be able to find the ridge line that defined the shallower water just up from the bridge from the much deeper hole a bit up into the lake. Saturday worked for all three of us, so we planned for a 9:00AM "Get out of Dodge" departure. Surprisingly, we were loaded and away from the house about 10 minutes ahead of schedule. Read the rest of this entry »

The First Day of Spring in Alaska is usually acknowledged with an understanding wink between those of us that live here, as we know "spring" is still four to six weeks away.
However, this year we've had an unbelievably mild winter, and with virtually no snow and lots of day time temperatures in the low 40's Lance & I decided we needed to go fishing. Besides, a fishing trip is good for what ails you.
I had driven to Homer on March 5th and the Upper Kenai was as low as I've ever seen it. No bank ice, clear water (for the Kenai) and a spurt of late run Silvers that arrived in the upper river in really late, all promised for as good of fishing as you could hope for. Now we were not after the Silvers; the season for them is closed, but where there's spawning salmon you can be sure there will be Rainbows, and since we were going to be by the lake, possibly Dolly Varden.
As luck would have it, Friday March 20th was the earliest day we could get together that the temperatures were going to be near the 40 degree mark; the First Day of Spring. This would be the earliest first trip of the year I had ever been on, and by no small margin. However, as usual, Murphy started to mess with us. (Murphy is a regular on lots of our fishing excursions. He seems to just invite himself.) Lance ended up with a doctor's appointment first thing Friday morning. No biggie, we'll just leave later; that will give the day time to warm up. Dennis discovered a leak in one of his tubes Friday night and can't find his patch kit. Ok, off to Alaska Raft for a patch kit (and some advice about the fishing at the bridge because the guys at AK Raft are like that). I had friends that came in from Nome Thursday afternoon and back off to Texas at 3:00AM Friday morning. Deal with it; a couple of short naps are way better than no sleep.
But as it turned out we were buying sandwiches at Subway just after 12 Noon, and didn't get onto the water until about 3PM. Read the rest of this entry »

We had an opportunity  to fish with a fellow AFF member that is, in my opinion, a master lake angler. Lance and I are making an effort to fish lakes a bit more. We've been off of them for over 10 years and it's amazing how much methodology has changed. Mike Malone, a long-time friend, offered to help us out in that department.
Mike has lived in the north Wasilla area for over 20 years and has spent most of his fishing time on the local lakes that surround his home. In the Mat-Su Valley ADF&G lists over 80 lakes that they stock, and almost 40 that are managed as wild fisheries. Granted the Mat-Su Borough is huge in terms of square miles, but most of these lakes are near a road, have public access points, and are within a 50 mile radius of Wasilla. As a result, Mike has experience fishing a diverse set of waters. Read the rest of this entry »

Confession time; as a fly tyer I have an addiction to hooks.  Not just your "run of the mill" everyday hooks, but to really nice, custom, specialized hooks. Hooks that, like micro-brewed beer, are built for those of us that will spend a little more money for something special.
Even when I'm not shopping for hooks, I have to at least seek a glance at the hook rack; which is how I ended up with the new Spear-It™ Sickle Octopus style hooks. And not just a single package of a specific size; but four packages in a range of sizes. I just had to. I couldn't help myself.
Spear-It Sickle hooks are not designed specifically for fly tying, although they are listed as a fly hook; but rather are designed to be use as a stinger, or trailing hook. Almost any short shanked hook will work as a trailing hook, although most tyers prefer an Octopus style of some sort. If you're using something stiff to attach your trailing hook, you can position it so that the hook point rides up, with the hopes of minimizing snagging. The problem with a standard Octopus style is that the gape is usually big enough to have the hook point out away from the body a bit. (I'm not talking about offset bends, that's a whole other design feature.) This new Sickle design seems to have overcome that design flaw. The hook point is in-line with the eye, and the bend is angular instead of a continuous curve. Read the rest of this entry »

Indie Alaska is one of the production arms of Alaska Public Media and they do a great series of short videos about people who help make Alaska the unique place that it is (Real Alaska, not Reality Alaska as portrayed on the cable channels…)
This episode is about one of the pillars of our fly fishing community – Pudge Kleinkauf. Check it out. You'll like it…

Southcentral Alaska has had an amazing spring this year. We had such warm weather earlier in the winter that the snow pack was low. April was filled with sunshine and temperatures much warmer than normal. Breakup was as much evaporation as run off. So when I got word that Rhett at Tri-River Charters had his Phantom boats in the river April 22nd I started looking for the first day possible to go fishing up the Talkeetna River.
I faced a couple of challenges. The last week of April and first weekend in May was out as I had work scheduled; Fishing buddy Lance had had some surgery in mid-April and is on "light" duty until his incisions heal; my brother was out of town for his son's graduation from college (congratulation DJ); and the weather had been so warm that the river was starting to blow out every afternoon. My window of opportunity was short. I needed a fishing buddy. To my rescue came Jae McKee, a friend I'd known for a while, and we had talked fishing. Jae had guided a bit on the Talkeetna when he was younger and I always wanted to get out with him to learn a bit more about the river. Our schedules matched up on Tuesday, May 6th; and as luck would have it, it was supposed to cloud up and get a bit cooler the first part of that week. I scheduled a 7AM shuttle ride with Rhett, borrowed a second pontoon boat for Jae, and started dreaming of big fish, eating little fry, dancing on the end of my line.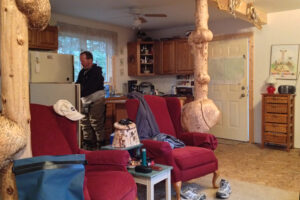 We decided to spend Monday night at Jae's cabin in Talkeetna, saving us from the 4AM alarm clock. We got out of town about 9PM due to a meeting I needed to be at, but noticed that, just as scheduled, the skies were starting to cloud up.
We woke up to wet everything. It had started to rain at some point during the night and although the rain wasn't heavy, the drizzle was still coming down, and it was very cool.

We're always looking for a little bit of an advantage over our pea-sized brained adversaries so we're willing to try the high-tech approach to try to gain a little over the millions of years of instinct (and a REALLY good nose) that the trout has. So recently I ran across this app called Ryple. (Yes, pronounced like ripple – the water, not the wine…) It purports to give us an edge up to 7 days in advance for choosing the best spots to go fishing (US data only at this time.) Sort of a high-tech take on the Farmer's Almanac. Well, since it's an app for my iPhone, I'm game to try it. $2.99 in the iTunes store. I download it, open it with great expectations, run through the short tutorial and… bust! There's no data for Alaska! Only the lower 48! I am totally bummed…
Read more blah, blah here