Posts Tagged 'fly fishing'
We decided after our season opener trip that we needed to make another trek south to the Russian River to try and re-shoot some underwater footage of the salmon at the confluence. But, since we were traveling that far anyway, we'd take our heavier rods and leave early; hoping to catch some of the sockeyes that were moving into the river. It was supposed to be about the peak of the run, and given that it was going to a Wednesday, we thought we'd have less combat fishing and quality time on the river. Well, you know fishing … in Tuesday's paper it was announced that ADF&G was going to open the Sanctuary (confluence) at 8:00AM Wednesday. Read the rest of this entry »

This adventure (or mis-adventure) was mention in my post about our three day fishing trip on the Kenai River this June. Since I had the new GoPro mounted on the pontoon railings I had the opportunity to capture footage that will save this moment (actually two hours) forever.
I hope you enjoy, please share.
Rich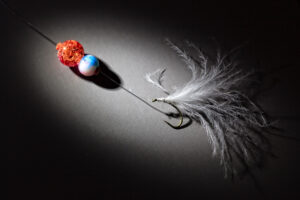 This Spring at the Great Alaska Sportsman's Show I watched a demo for a product being sold through Mountain View Sports called Hevi-Beads. Back too them in a minute…
Now anyone who knows me very well knows that Rich and I have not been great fans of the practice of using beads for trout despite their undeniable effectiveness. They just didn't seem to be flies to us. So a couple of years ago we set out on a quest to come up with a way to fish beads – with the ability to make quick changes – and we came up with the Select-A-Bead system. A fly with a plastic tag that could be threaded through the bead (or two) and allow you to fish it like a bead head. We've tried them in a variety of patterns from standard eggs through Wooly Buggers and Bunny flies to Sculpins. Sometimes they work sometimes they don't. We had days where they outfished everything else in the box and days where they didn't catch a thing but regular beads on the line above a bare hook caught many. It was very frustrating.  Read the rest of this entry »

For most Alaskan fly fishers spring brings melting snow and thoughts summer fishing, with (hopefully) sunshine and green things growing everywhere.  But some of us have discovered we can have frys with our spring.
Salmon eggs laid last fall have been hatching under the ice, slowly developing into alevins (yoke sac fry). As ice pulls away from the spawning beds, the alevin, having used up their yoke sac, become fry. New fry swim to the surface, gulp some air to fill their air bladder, and begin free swimming and feeding. It's at this point in their young lives that fry become available to all the other fish that have been on minimum rations through winter.

From our friends at Southern Culture On the Fly – Safe Hook Removal. Not a pleasant thought but invaluable when it happens to you or your friend.

These folks also provide another exceptional internet based magazine. Take a look here.

Bruce Berry of Pro Tube Fly Systems demonstrates how to tie really cool sculpin pattern on a Pro Tube Micro Tube.
Posted on YouTube by Caddis Fly Shop

Song from www.fishingmusic.com.
Ben Winship & David Thompson wrote this piece for their album Fishing Music II. It's a great album with a pretty wide range of music. This one is hilarious! Give it a listen and head over to their store at http://store.benwinship.com/ to buy a copy of this one and their first – Fishing Music. Very good stuff!

Fly Fishing – Silvers On The Fly from Greg Heister on Vimeo.
Greg lived here in Alaska with us for many years. Now a resident of Spokane he fishes here when he can. This video is part of a series Greg produces called Seasons On the Fly. It's shown on Versus weekends and covers fly fishing better than most of the other shows. If you go to Vimeo you can see segments of several of his shows or go directly to the web site at SeasonsOnTheFly.com. Enjoy! Get'em Greg!