Archive for the 'River Trips' Category
We decided after our season opener trip that we needed to make another trek south to the Russian River to try and re-shoot some underwater footage of the salmon at the confluence. But, since we were traveling that far anyway, we'd take our heavier rods and leave early; hoping to catch some of the sockeyes that were moving into the river. It was supposed to be about the peak of the run, and given that it was going to a Wednesday, we thought we'd have less combat fishing and quality time on the river. Well, you know fishing … in Tuesday's paper it was announced that ADF&G was going to open the Sanctuary (confluence) at 8:00AM Wednesday. Read the rest of this entry »

Lance, Dennis, and I all have GoPros this year. (I know, like we need more toys to keep us busy.) But we decided that since they are designed to be used underwater that we should try to photograph the salmon that congregate in at the confluence of the Russian and Kenai Rivers. Since the area is closed to fishing, the fish are, for the most part, undisturbed and behave naturally. This includes running very close to the shore line and in relativity clear water (as you will soon see). This blended video is our first attempt at capturing these fish in their natural environment. Unfortunately, ADF&G opened the Sanctuary to fishing the day we were planning our second attempt; now we'll have to wait until next year.
But check back, this stuff is way too cool not to do again.

This adventure (or mis-adventure) was mention in my post about our three day fishing trip on the Kenai River this June. Since I had the new GoPro mounted on the pontoon railings I had the opportunity to capture footage that will save this moment (actually two hours) forever.
I hope you enjoy, please share.
Rich

Kenai River Opener: June 11th – 13th
As we have for the last few years; Lance, Dennis, & I took three days at the beginning of the season opener to float fish the Kenai River. The campground is in Cooper Landing, right on the river. Actually, it's our campsites that are right next to the river, giving us the prime location for launching our pontoon boats.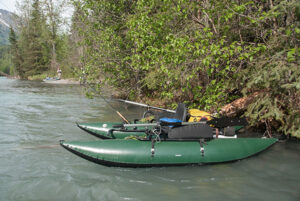 Speaking of boats… I have a new one! It's the 9' Sportsman Warehouse special from Outcast.
I reversed the tubes as I didn't receive any discount that warranted free advertising on the river. I'm planning on getting vinyl banners printed and attached to the tubes that will promote 2 Guys Fly Fishing (and my photography business if my lovely partner gets her way).  Anyway, the boat is solid and handled well, and considering the price point, a great deal.
The Kenai River was high, up to its banks, and we saw higher water each day, thanks to the stick marker put in by Dennis. With the high water came low water clarity. Both of these contributed to poor fishing.

Occasionally I think I lead a charmed life. Not so much for the fame & fortune I've avoided, but for things that happen in my life that convince me that Karma, Guardian Angels, and River/Fish Gods are entities that you should never take lightly. Also, that safety first is a great policy to live by.
Sunday was supposed to be a relaxing day floating the upper Kenai River. Lance has a new Fish Cat Scout raft that he wanted to try out on moving water, and since the river is closed to fishing, we were anticipating a very relaxing day trip; looking for photo ops, and scouting locations for next Tuesday when the river does open for fishing.
This was not to be.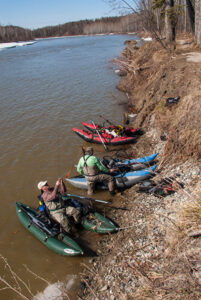 Finally… a day of fishing! Our first trip out was about 10 days later than normal this year. The water levels on the Talkeetna River stayed very low due to a cold spring, and when they did come up enough to get a jet boat upstream, it was a matter of juggling three different schedules on short notice to make a date for Friday, May 24th.
Tri-River Charters ran us and our pontoon boats up river on their 21' Woolrich. Strap three 9' boats to the back of a river boat, add the three of us, two additional anglers headed upstream, plus the captain, and you have a full boat. Good news is that we were able to get a "freight run" price which kept the trip really reasonable, dollar wise. We asked to be dropped off just upriver from Fish Creek; and geared up our boats against a steep bank.
10:00AM launch – 11:00AM fishing: not bad.
We were greeted by sheets of bank ice on much of the river. It looked more like early May as opposed to the third full week into the month. However, the day was absolutely gorgeous, with sun all day long and temperatures that had to be in the 70's. It was a weird way to fish; being almost too hot in shirt sleeves, while casting our flies into water that was cold and off color from ice and run off. It didn't take us long to realize that the main stem Talkeetna was turning darker as we watched. Visibility went from almost a foot in the morning at the launch site to about 6" in just a few hours. We decided to concentrate on the areas where clear water from Fish Creek and Clear Creek mixed with the Talkeetna. Read the rest of this entry »