Archive for the 'Uncategorized' Category
Confession time; as a fly tyer I have an addiction to hooks.  Not just your "run of the mill" everyday hooks, but to really nice, custom, specialized hooks. Hooks that, like micro-brewed beer, are built for those of us that will spend a little more money for something special.
Even when I'm not shopping for hooks, I have to at least seek a glance at the hook rack; which is how I ended up with the new Spear-It™ Sickle Octopus style hooks. And not just a single package of a specific size; but four packages in a range of sizes. I just had to. I couldn't help myself.
Spear-It Sickle hooks are not designed specifically for fly tying, although they are listed as a fly hook; but rather are designed to be use as a stinger, or trailing hook. Almost any short shanked hook will work as a trailing hook, although most tyers prefer an Octopus style of some sort. If you're using something stiff to attach your trailing hook, you can position it so that the hook point rides up, with the hopes of minimizing snagging. The problem with a standard Octopus style is that the gape is usually big enough to have the hook point out away from the body a bit. (I'm not talking about offset bends, that's a whole other design feature.) This new Sickle design seems to have overcome that design flaw. The hook point is in-line with the eye, and the bend is angular instead of a continuous curve. Read the rest of this entry »

Finally! We are out on a lake again. Lance & I use to fish lakes all the time. We both have float tubes, and when he lived in Wasilla we'd often spend an evening fishing one of the local lakes. But then life changed; Lance ended up out of state for a few years, my float tube didn't get unpacked from winter storage the next year (and the next, and the next …), and my fishing life morphed away from float tubing. But this year, we've decided to make an effort to get back onto our local lakes. They're close enough for an evening of fishing; most of the time you can find some action and every once in a while you can get into some really nice fish.
Knik Lake was our first outing. It was Memorial Day weekend, so we picked Saturday night to minimize the holiday traffic and late afternoon to fish into the twilight hours (as much as we get in late May). We had decided to take our pontoon rafts instead of float tubes. We both were curious about how they would handle on lakes. (Pros & cons below.) Our 3PM start was delayed a bit by Murphy; but we were on the road by 5:30PM. It's a bit over an hour drive from my house, and it took us about thirty minutes to get prepped and in the water. The sun was low, and orange-red from smoke from the Funny River fire a couple hundred miles away. We still had plenty of light; we just were not going to be able to cover more than one area. Read the rest of this entry »

Southcentral Alaska has had an amazing spring this year. We had such warm weather earlier in the winter that the snow pack was low. April was filled with sunshine and temperatures much warmer than normal. Breakup was as much evaporation as run off. So when I got word that Rhett at Tri-River Charters had his Phantom boats in the river April 22nd I started looking for the first day possible to go fishing up the Talkeetna River.
I faced a couple of challenges. The last week of April and first weekend in May was out as I had work scheduled; Fishing buddy Lance had had some surgery in mid-April and is on "light" duty until his incisions heal; my brother was out of town for his son's graduation from college (congratulation DJ); and the weather had been so warm that the river was starting to blow out every afternoon. My window of opportunity was short. I needed a fishing buddy. To my rescue came Jae McKee, a friend I'd known for a while, and we had talked fishing. Jae had guided a bit on the Talkeetna when he was younger and I always wanted to get out with him to learn a bit more about the river. Our schedules matched up on Tuesday, May 6th; and as luck would have it, it was supposed to cloud up and get a bit cooler the first part of that week. I scheduled a 7AM shuttle ride with Rhett, borrowed a second pontoon boat for Jae, and started dreaming of big fish, eating little fry, dancing on the end of my line.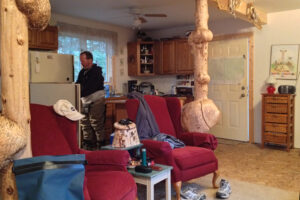 We decided to spend Monday night at Jae's cabin in Talkeetna, saving us from the 4AM alarm clock. We got out of town about 9PM due to a meeting I needed to be at, but noticed that, just as scheduled, the skies were starting to cloud up.
We woke up to wet everything. It had started to rain at some point during the night and although the rain wasn't heavy, the drizzle was still coming down, and it was very cool.


Well friends, it was a sad day in the neighborhood the last weekend in October. I finally came to the conclusion that I wasn't going to get out to fish again before winter arrives and makes the water hard.
It's a yearly mental adjustment, that this year, was harder than most.
We've had a very warm and prolonged fall this year. Halloween has come and gone as I write this, and it's still well above freezing around Anchorage. So warm in fact that it was raining on the last Sunday of the month, as I put in some garlic starts in the ground. This is supposed to be a good thing in my life as Lance & I always try to make one last trip in the middle of October with a friend of ours that guides all summer on the Kenai River.
The challenge each year is that my work schedule keeps me running non-stop until mid-October; which usually corresponds with the start of winter here in south-central, plus or minus a week or so. This year looked good for fishing. We had set a date with Damond for Thursday the 17th (Plan A). Given our extra warm fall, both Lance & I were looking forward to one last fling at fish before the dark of winter set in.
But Mother Nature can be a cold hearted wench sometimes. An ice dam from a glacier that feeds into the Snow River, which is the head water for the Upper Kenai Lake, broke (probably due to excessively warm weather) and started releasing nasty goop into the watershed in early October. Projections were that it would subside within a few days.
Damond checked in with Lance the first week in October and let him know that we were still on for the 17th. The following Wednesday Damond called again; this time with not so good news. The middle river had come up six inches since Monday and was now running the color of concrete. The glacier was actually releasing more discharge, not less. He and a friend had scoured the dunes below Skilak Lake and had even tried the inlet below the canyon (both hot spots for trout in the fall) and hadn't touched a fish. Even what few silver salmon that had been fishable were now hidden by the silt ridden water. We could drive down, but…. (you can figure out the rest of this story).
We decided to try Plan B.  Earlier in the year we had talked to Rhett, owner of Tri-River Charters, about how the Talkeetna fished in the fall; specifically October. We've had tough fall trips on the middle Kenai before, we were looking for options. Seems there's a window of opportunity for good fishing when the water clears and as long as the river is runnable it's fishable. Wednesday afternoon I called their office to see if it was possible to be run up to Clear Creek with our pontoon boats. Bad news; the answering machine picked up my call, and no one called back before the 17th had come and gone. Plan B was shot.
Plan C… Was there anywhere we could go at the last minute? It was too late in the year for the Russian to hold any fish and the upper Kenai would be as bad as the lower. We were not very familiar with the east side streams of Susitna so that would be a hunt and prospect at best, and it was going to be raining. Sufferable if you're in a boat, not so good when you're hiking and walking. We were toasted.
So Thursday I slept in a bit and caught up on office work.
Jump to the weekend before Halloween. I'm cleaning up the last of the flower pots from the yard and storing everything under the deck. I see my raft sitting over at its summer residence, and it seems to say: "If we're not going fishing, you need to put me away for the winter. And buddy, the chances of you going fishing again doesn't look real good." Yea, yea… I know.
It's tough when you have to face reality. I think as fly fishers we're very good at thinking that life is going to be better than it probably will be. The fish will always be there, the weather will be better than it turns out, and the next good fish lives around the next bend or in the next stretch of water. But this time the calendar and my work schedule were tapping me on the shoulder saying: Look around buddy, winter is anytime and you need to put away your summer toys.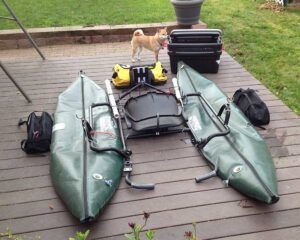 So, after the yard was finished, I cracked open a cold beer and hauled the raft out to the lower deck. (This was personal work, so beer is allowed.) I took off the storage bag and side pockets, unstrapped and flatten the tubes, packed everything into a tote, and then into my car, for the ride to a warm storage unit. By the time I'd finished it was starting to get dark and a bit cold for the light shirt I had been working in, and my beer was on empty.
I felt a sudden wash of melancholy. The next two weeks would be filled with travel and work, bringing me back home several days into November. Winter was late, but inevitable. And although I was physically ready, it would be a long dark wait until mid-April when I'll have the chance to float an early-season river.
And that my friends, makes a sad day.

Well, Lance and I finally found one. One of those elusive streams in south central Alaska where rainbows live unmolested by the hordes of seasonal anglers chasing salmon, thrashing the water into froth. Just us, wild fish, and quiet. OK, there were tons of mosquitoes and flies, and lots of bear sign as well. But most of the bear scat was oldish and we didn't run into to one, so bears don't count this time. And if you don't expect mosquitoes; you're not from around here. Oh, did I mention that it almost killed us to get there. (Well maybe not kill, but severely hurt at a minimum.)

We decided after our season opener trip that we needed to make another trek south to the Russian River to try and re-shoot some underwater footage of the salmon at the confluence. But, since we were traveling that far anyway, we'd take our heavier rods and leave early; hoping to catch some of the sockeyes that were moving into the river. It was supposed to be about the peak of the run, and given that it was going to a Wednesday, we thought we'd have less combat fishing and quality time on the river. Well, you know fishing … in Tuesday's paper it was announced that ADF&G was going to open the Sanctuary (confluence) at 8:00AM Wednesday. Read the rest of this entry »

Kenai River Opener: June 11th – 13th
As we have for the last few years; Lance, Dennis, & I took three days at the beginning of the season opener to float fish the Kenai River. The campground is in Cooper Landing, right on the river. Actually, it's our campsites that are right next to the river, giving us the prime location for launching our pontoon boats.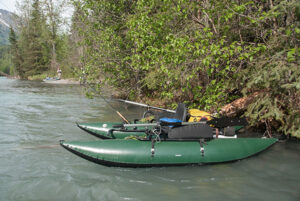 Speaking of boats… I have a new one! It's the 9' Sportsman Warehouse special from Outcast.
I reversed the tubes as I didn't receive any discount that warranted free advertising on the river. I'm planning on getting vinyl banners printed and attached to the tubes that will promote 2 Guys Fly Fishing (and my photography business if my lovely partner gets her way).  Anyway, the boat is solid and handled well, and considering the price point, a great deal.
The Kenai River was high, up to its banks, and we saw higher water each day, thanks to the stick marker put in by Dennis. With the high water came low water clarity. Both of these contributed to poor fishing.

Occasionally I think I lead a charmed life. Not so much for the fame & fortune I've avoided, but for things that happen in my life that convince me that Karma, Guardian Angels, and River/Fish Gods are entities that you should never take lightly. Also, that safety first is a great policy to live by.
Sunday was supposed to be a relaxing day floating the upper Kenai River. Lance has a new Fish Cat Scout raft that he wanted to try out on moving water, and since the river is closed to fishing, we were anticipating a very relaxing day trip; looking for photo ops, and scouting locations for next Tuesday when the river does open for fishing.
This was not to be.